---
1:1 iPad Program Mission
The 1:1 iPad Program at St. Francis Prep will continue to bring SFP education into the 21st Century and to equip students with the essential skills to succeed in our technology savvy world. We believe that it will help teachers to reach students even better, and that it will engage our students and help them to be more excited about learning. We believe that it will help our students in many practical ways, small and large.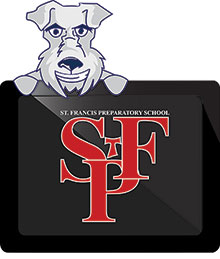 What to do if your iPad is broken:
As soon as possible, bring your iPad to Ms. May to complete the claims process and receive
your loaner iPad.
Replacement iPads must be returned as soon as the student's original iPad is returned when
you receive notice from Ms. May. Students are responsible for any damage to replacement
iPads while they are in their care.
Even if your iPad is broken and being sent out for a repair, you must have your iPad in school
every day. Please remember that these are school property!
You might be ok with a cracked screen on your phone, but any breakage on school-issued
iPads must be fixed immediately!
Practical Questions:
I forgot my password - how can I reset it?
You have a lot of passwords now, so check this list to see where you should go.
Apple ID (also iTunes U): reset it online at iforgot.apple.com
Google (school Gmail, Google Drive, Google Classroom): see Ms. May in the library
MySFP: reset it online at www.sfponline.org
Computer account: visit the computer lab to have a staff member reset it
PowerSchool: reset it online at https://sfponline.powerschool.com/public/account_recovery_begin.html
Pearson Textbooks: see Ms. May in the library or call (800) 234 - 5TEC if the library is closed
Sadlier Vocabulary: see your English teacher, who can reset it for you
Turnitin: reset it using the Reset Password link on turnitin.com
Schoology: rest it using Reset Password link on www.schoology.com