Seventeen, the prime teenage year. You're a senior in high school and the world awaits you. As with all stages of life, it comes with its own set of responsibilities and obligations.
Finding a way to pay for college is one of the most important concerns that teens this age face. Applying for jobs during the school year and especially during the summer seems to be the smartest, safest, and most popular way teenagers are trying to achieve this. Not only does it provide cash needed for college and personal expenses, but it also promotes responsibility and helps to prepare the youth for entering the workforce in the future. Part-time jobs can become a home-away-from-home for most, who bond with their fellow coworkers, supervisors, and customers. For Amanda Nichols, and unfortunately for many other teenagers, this is not always true.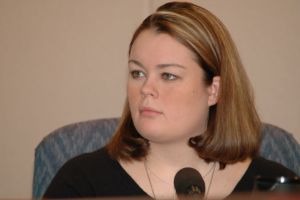 Amanda Nichols was the victim of sexual harassment on the job.
Photo by Tony Kaminski, EEOC
During the summer of her junior year, Amanda Nichols, like most kids her age, got a summer job. She worked at the local Steak 'n Shake, a fast-food establishment, in her hometown of Ballwin, Missouri, as a server and kitchen helper. What should have been a happy and memorable first job experience was, in fact, scary and traumatic for Amanda.
At work, she avoided daily sexual verbal references and actions made toward her by an older male coworker. She frequently complained to her managers and supervisors and asked to be moved away from man, but they refused.
"I thought [my managers] would think of my best interests. When they didn't, I felt like I was screaming and nobody was hearing me," she said.
Amanda tried to ignore the advances made toward her and continue doing her job, but the condition only worsened. One night, the man followed her to her car, threatened her and exposed himself.
At this point, Amanda couldn't take the abuse anymore. She complained again to her manager, saying that they had to choose between her and him. The manager responded by telling her that he felt it would be in the best interests of everyone if she left.
After she quit her job at the Steak n Shake, she got in contact with the Equal Employment Oppurtunity Commission (EEOC), which determined that she had been the victim of unlawful sexual harassment and that as a result, she was forced to quit her job. The Commission first tried to reach a settlement with Steak 'n Shake about Amanda's complaint. That didn't work, so on July 15, 2004, it filed a lawsuit against Steak 'n Shake, claiming that it was responsible for making Amanda work in an environment that was harmful to her. This lawsuit was one of 25 that the agency filed on behalf of teenagers during that year.
"Discrimination happens to employees of all ages, but offenders often single out teen workers because they think they won't know any better. Sometimes, too, people commit such acts because they don't know any better," says EEOC Chair Cari M. Dominguez.
Amanda Nichols' case, as well as many other discrimination and sexual harassment cases involving teens, prompted EEOC to establish its Youth@Work program. The goals of the program are to make people more aware of what is going on and to provide resources on how to stop it.
"When you encounter discrimination, be brave enough to step up and stop it," said EEOC Vice Chair Naomi C. Earp. Amanda was one of the few who took a stand to stop the discrimination that she experienced. Her case can set an example for others to do the same.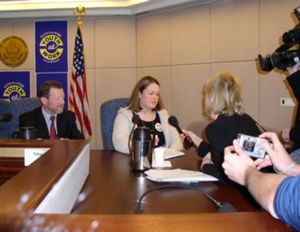 Amanda shared her story with high school journalists at the EEOC press conference
and through the media in the hope that it will help others avoid similar situations.
Photo by Mrs. Cynthia Mascone