In October, a group of ten students from Germany and their principal traveled to St. Francis Prep as part of a foreign exchange program. They came from the Albert Einstein School in Maintal, Germany, which is near Frankfurt, a school of about 900 students in grades 5 to 13.
The exchange was sponsored by the German government's Goethe Institute and was part of the German-American Partnership Program (GAPP). GAPP was founded in 1977, and since then over 200,000 students has traveled to Germany and America to share in each other's cultures and strengthen the bonds between the two countries. In doing this, these students make lifetime friendships and become more aware of the world outside of their country.
The German students were excited about the prospect of going to America and living with a family. During their three-week stay, they attended classes with Prep students and got to experience life as an American teenager. When asked about the cultural differences between Germany and America, they said the bustling cars and loud noises often heard were very different from the picturesque town of Maintal, which looks somewhat like a fairy tale village.
The students from St. Francis Prep visited Germany over the summer and adored it. Melissa Pereira said the part she enjoyed most was "meeting new friends and experiencing a new culture."
The Prep students visited many of the famous sites of Germany and were impressed with its cities and small towns. Most of them agreed that it was unbelievable being in a foreign country, meeting all new people, and learning about their culture.
Communication between the students from the two countries was not a barrier. In fact, all the exchange students from Germany spoke perfect English. Markus Abt states, ?I believe that it is much easier for German-speaking people to learn English than for English-speaking people to learn German. We start English classes in fifth grade and take them for as long as we are in school.?
The students from St. Francis Prep and from the Albert Einstein School have said that even when this exchange program ends they will continue to be friends and keep in touch with one another. They believe that this program really opened their eyes to a whole new world. What started out as an educational exchange has turned into lifelong friendships between people who otherwise would never have met.
The students who participated in the exchange encourage other students from Prep to join next time. Melissa Pereira says, ?to be able to see a new country from the eyes of its people is a truly wondrous thing that you will always remember.?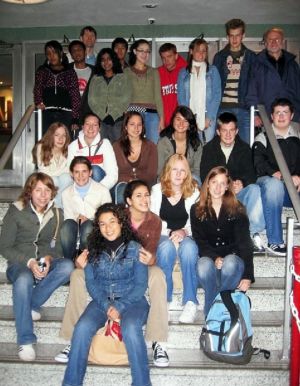 Photo by Jen Mauer '09
Bottom Step: Stephanie Ruiz (SFP)
Second Step: Laura Kress (AES), Savita Pandya (SFP) , Karolin Reuhl (AES)
Third Step: Judith Henkel (AES), Anna Caroline Schmidt (AES)
Fourth Step: Felicia Rubin (SFP), Kim Achtert (AES), Caro Streichert (AES), Katharina Herzog (AES), Jan Peter Teschabai (AES), Markus Abt (AES)
First Row Standing: Ashley Baird (SFP), Anila Alexander (SFP), Melissa Pereira (SFP), Kim Cicciarello (SFP) Mr. Frank Maier (Principal of the Albert-Einstein School)
Second Row Standing: Kevin Ali, Roy Adams, Kevin Golero (all SFP), Tim Bubley (AES)