College Office
College Office Bulletin Board
---
Contact the College Office: [email protected]
Senior Reminders:
*Submit your College Applications: Common app, CUNY, Other
*Mail in your Transcript Request Form (During Remote Learning) w/ $5 per School, CUNY only requires one transcript fee for all schools.
Make your check out to "St. Francis Preparatory"
St. Francis Preparatory
College Office
6100 Francis Lewis Blvd.
Fresh Meadows, NY 11365
*Send SAT/ACT scores (if sending)
Apply for Financial Aid (www.FAFSA.ed.gov)
FYI Blue transcript request forms can also be dropped off with a check at the security desk
THE COLLEGE OFFICE HOURS ARE 8 AM TO 3:30 PM
Room N-201
PLEASE DO NOT COME TO THE COLLEGE OFFICE DURING CLASS TIME
THANK YOU
______________________________________________________
---
COLLEGE REPRESENTATIVES--
If you are interested in visiting our School and/or Seniors please email our College Office
_____________________________________________________________________________________________
School Information:
COLLEGE APPLICATION INFORMATION SHEET
Saint Francis Preparatory School
Phone (718) 423-8810 College Office Fax: (718) 943-7510
Mr. Patrick McLaughlin Mrs. Robyn Armon
Principal Director of Guidance
­
School Information: CEEB Code: 330835
6100 Francis Lewis Blvd
Fresh Meadows, NY 11365
Class of 2020 Data: Grading/Ranking
Class of 2021 has 629 graduates Ranking- None
Class of 2021 entered high school: 09/08/2017 Grading- 100 Scale
Graduation Date: 06/29/2021
*please refer to the course booklet for course credit information*
Counseling Department
Contact Information
Guidance Office: (718)423-8810 ext 212 Mrs. Patricia Fagan [email protected]
College Office: (718)423-8810 ext 244 Ms. Jennifer Kuz [email protected]
Title: Guidance Counselor
Mrs. Robyn Armon [email protected] Mr. Nicholas Lombardo [email protected]
Ms. Becky Barell [email protected] Mrs. Josephine Morrone [email protected]
Mrs. Danielle Forte [email protected] Mr. Brandon Magenheim [email protected]
Mr. Peter Bosco [email protected] Mr. Michael Hernandez [email protected]
Mrs. Laura Hassett [email protected] Mrs. Nancy Williams [email protected]
Reminder: it is your responsibility to send official SAT/ACT score reports from
www.collegeboard.org and www.act.org
Reminder: for every school you apply to, you are required to hand in a BLUE PROCESSING FORM to the College Office
All Blue/Transcript Request Forms can be submitted to the College Office in person (when permitted) or by mail:
St. Francis Peparatory
SFP College Office
6100 Francis Lewis Blvd
Fresh Meadows, NY 11365
Procedures for Submitting Applications Class of 2021
ONLINE APPLICATIONS USING http://www.commonapp.org/

Once you have added a college to the Common App, your online application, you must submit a BLUE Transcript Request Form to the College Office in N-201. You can use as many forms as you need.
Include $5 for your official transcript to be sent electronically to each college you applied to

CUNY APPLICATION USING http://www.cuny.edu/

Once you have completed and submitted your online application, PRINT a copy of the High School Transcript Request Form (from your CUNY application summary packet)
Include one BLUE Transcript Request Form for all CUNY schools and $5 for an official transcript
CUNY options: CHOOSE ONLY ONE: Freshman admissions/Macaulay Admissions

http://www.suny.edu/– ONLY IF THE SPECIFIC SUNY SCHOOL DOES NOT ACCEPT THE COMMON APP.

Include the SUNY School Counselor Form (which will be copied by your counselor for each SUNY campus you apply).
BLUE Transcript Request Form – one for all SUNY schools.
$5 for an official transcript for each school.

OTHER ONLINE APPLICATIONS EDOCS/ SEND EDU

One BLUE Transcript Request Form for each school $5 for an official transcript for each school.

ONSITE ADMISSIONS
St. Francis Prep will host several Onsite Admission opportunities for our students. Notices will be posted outside the college office on the SFP website, making them aware of the date of Onsite and specific directions for each Onsite. College admissions representatives will come to Prep or schedule a virtual visit where they will hold a personal interview with students, review their applications, and in most cases, render a decision at that time. Each student will receive an appointment card in their Cor box or an email with details the day before the Onsite.

Completed application (follow College Office directions on how to obtain application).
Students must meet individual college requirements.
Completed BLUE Transcript Request Form.
$5 transcript fee.
Copies of official SAT or ACT scores, if submitting
The college essay (if required).
* ALL ONSITE INFORMATION WILL BE ADVERTISED ON THE SCHOOL MONITORS, ON THE SCHOOL WEBSITE, IN THE COLLEGE/GUIDANCE OFFICES AND IN COR
LETTERS OF RECOMMENDATION Many schools request that students submit letters of recommendation with their applications. Colleges are looking to assess your academic performance; therefore, it is strongly suggested that you request a letter of recommendation from a teacher who taught you in a major academic subject. It would help if you had this teacher no earlier than your junior year. MAKE YOUR REQUEST ON NAVIANCE to your teacher as soon as possible. Your teachers will use Naviance to submit your letters.
Letters of recommendation do not have to accompany your application; teachers will send them separately. TEST SCORES if you are submitting !!
Students are responsible for having their standardized test scores sent directly to the colleges they are applying to. Log on to www.collegeboard.org and www.act.org and follow instructions for test score submission.
Virtual College Fairs and Visits
CUNY MACAULAY HONORS COLLEGE
OPEN HOUSES
For students who are curious about Macaulay and would like an introductory presentation. Current students and alumni share their experiences in a recorded session with a Q & A period at the end.
March 17 5-6
April 27 5-6
May 26 5-6
CUNY MACAULAY HONORS COLLEGE
INFO SESSIONS
For students who've already put Macaulay on their list and want additional details about the application process, eligibility, academics, or other topics. The admissions team will answer questions live during this hour-long zoom event.
March 1 4-5
April 6 4-5
May 12 4-5
SUNY Virtual Information Sessions:
SUNY continues to offer the following virtual information sessions throughout the spring for students and families. Registration for upcoming events can be found at www.suny.edu/studentevents.
Financial Aid
Friday, January 22, 4:00 p.m.
Friday, February 5, 4:00 p.m.
Friday, February 19, 4:00 p.m.
How to Apply
Wednesday, January 20, 5:30 p.m.
Wednesday, January 27, 5:30 p.m.
Which SUNY Are You?
Wednesday, February 10, 5:30 p.m.
Wednesday, February 24, 5:30 p.m.
Wednesday, March 3, 5:30 p.m.
Virtual HBCU Festival
Alfred Street Baptist Church is hosting the 19th Annual Historically Black Colleges and Universities (HBCUs) Festival on Saturday, February 20, 2021 from 08:00am to 4:00 pm. In response to COVID-19 concerns, this event will be VIRTUAL. Registration is now open for high school seniors only. Registration for all others will open on January 25, 2021 at 12:00 noon (EST).
If you have questions, please email: [email protected]
College Board BigFuture College Fairs
Explore colleges in a way that's not overwhelming, and show them you're interested.

Take action on key college planning steps like searching for colleges and exploring careers and majors.

Listen, learn, and participate in live Q&A and online chat with admissions representatives and current students who have been through it all.

Download college planning resources, and drop in with questions for a college adviser.
Save the Dates
You can attend any event and more than one. Explore your college options in each region!
BigFuture Days West + Southwest Saturday, February 6
BigFuture Days Southeast Tuesday, February 23
BigFuture Days Northeast Sunday, March 7
BigFuture Days Midwest Thursday, March 11
How to Attend
You can register for any event and more than one.
You can attend all or parts of the event.
Who: This event is meant for high school sophomores and juniors, but younger and older students are welcome. We also encourage parents/guardians to join along with their students.
When: Click the events below to learn more about the colleges and states included in that region.
BigFuture Days West + Southwest
Saturday, February 6, 4:00-8:00 PM ET/1:00-5:00 PM PT
BigFuture Days Southeast
Tuesday, February 23, 5:00-9:00 PM ET/2:00-6:00 PM PT
BigFuture Days Northeast
Sunday, March 7, 4:00-8:00 PM ET/1:00-5:00 PM PT
BigFuture Days Midwest
Thursday, March 11, 5:00-9:00 PM ET/2:00-6:00 PM PT
Registration is for students only. Parents will receive separate log-in information when their
Carnegie Mellon University:
Turn Tartan Experience
https://admission.enrollment.cmu.edu/pages/turn-tartan-experience
University of Connecticut:
https://admissions.uconn.edu/virtual-experiences#
Drexel:
https://drexel.edu/undergrad/resources/freshman/
https://drexel.edu/undergrad/visit/campus-visits/
Fordham University:
https://www.fordham.edu/info/20530/visit/10157/fall_visit_options
NYSACAC:
Registration is now open for the fair! Jumpstart your college search! NYSACAC is hosting the first virtual college event for students and families across New York State. Students will have the opportunity to attend sessions on:
the virtual college search what the move to test-optional means for their application
financial aid and financing college starting the college essay and the Common Application, and more!
For more information: [email protected]
College Fairs Online
College Fairs Online is still hosting our nationwide virtual college for your students. Connect with great affordable colleges and universities for free without having to leave home, this is the perfect resource for the virtual learning environment we find ourselves in now. Students can chat with admissions counselors to ask questions about academics, campus life, financial aid, scholarships and more! Each student is also entered into a drawing for a $200 scholarship each time they ask a question on a virtual booth. Go online now to www.collegefairsonline.com to register for the virtual college fair.
Test Optional:
The COVID-19 pandemic has created uncertainty among students and families about nearly all aspects of the college admission process, including the role of standardized testing.
Due to the cancellation of SAT and ACT testing dates, more than 1,450 US colleges and universities announced they are moving to a test-optional policy, and more will surely follow. By going test-optional, institutions are making a definitive statement that they will not need test scores to make admission decisions this year. Despite the change in policies, high school students and their parents are asking, "Does test optional really mean test optional?" The answer, simply put, is: YES.
For a list of schools going test optional visit:
https://www.nacacnet.org/news--publications/newsroom/test-optional-means-test-optional/
All Ivy League Schools Temporarily Suspending Standardized Testing Requirement
In continuing coverage, CNBC (6/22, Hess) reports the coronavirus pandemic has made "in-person testing difficult (if not impossible) for many college applicants and colleges across the country are pausing standardized testing requirements – including Princeton University." The college's recent decision "means that all eight Ivy League schools will temporarily not require standardized testing next year as well as other prestigious schools such as Caltech and Stanford University." Princeton is also "getting rid of its early-admission deadline, which means all applicants will be considered during the regular admission process whose deadline is January 1, 2021."
New at NYU
In light of COVID-19, students applying for the Class of 2025 are not required to submit standardized testing.
Regular Decision deadline is now January 5, 2021. Early Decision II will remain January 1, 2021.
First event is September 14th. You can also see the full list of virtual events for students and virtual events for parents online
CUNY
THE CITY UNIVERSITY OF NEW YORK – APPROVAL OF A SPECIAL COVID-19 TEMPORARY SUSPENSION OF STANDARDIZED TESTING REQUIREMENTS FOR UNDERGRADUATE ADMISSION:
In light of the ongoing COVID-19 public health emergency and to enable prospective students to effectively plan, CUNY will temporarily suspend the use of standardized admissions testing (e.g., SAT/ACT) in evaluating students for admissions into undergraduate programs. This temporary special policy is in effect for the spring 2021, fall 2021, and Spring 2022 admission cycles only and is consistent with similar policies enacted by colleges and Universities across the State and our Nation. Additional information about the admissions process will be forthcoming.
***********************************************
Below are some of the highlights regarding COLLEGE DECISION MAKING:
* Make a list of the colleges in which you are interested.
* Log onto these college websites to gather some important information: majors offered, programs available, location, cost, a general profile of GPA and SAT scores of admitted students, application deadlines, if SAT II tests are required, etc.
* Most college applications require an essay. Check websites to see if topics are given. If not, a personal statement is accepted by many schools. This can include a personal experience that has been an influence in your life. The summer is a perfect time to begin to write rough drafts so that you have a head start on the process. Seniors: When you return to school in September, you can ask an English teacher to review the essay, or visit the writing center for help(appointments available through the English Department). Do this early, as they will get many requests, and you need to be respectful of their time.
* Visit Colleges. Fall and Spring are good times to attend "open house" at colleges. Most colleges will give tours during the summer, and even speak with students and parents. It will give you some idea of the campus and facilities, traveling time, surrounding environment, etc.
* SAT: JUNIOR STUDENTS TAKE the SAT in the spring. Once you receive those scores we suggest spending time over the summer preparing for the fall SAT. Focus on the area(s) where your performance was weak. SENIOR STUDENTS WILL TAKE THE SAT (again) IN THE FALL.
*SENIORS: It is very strongly suggested that you register on-line for the October or November SAT exam during the summer approaching senior year.
Extracurricular Activities During COVID-19
High school students typically use their summer vacations to engage in activities that will feature prominently in the "activities" section of their college applications. These activities paint a picture of how the student spends his/her time after school and on breaks and help college admissions staff determine which students will be a good fit for their campus. Unfortunately, the coronavirus will likely alter your summer plans, leaving many parents and students worried about missing opportunities to showcase their skills, interests and talents.
While summer plans may be different from what students expected, students should not decide to spend their summers idly. Participating in meaningful activities should remain a key factor in a student's college application. While sheltering in place, high school students should reflect on their interests and creatively find activities that they can do from home to build on those interests. Alternatively, the summer can be used to try something new.
Typical summer activities such as working as a camp counselor, attending a sports camp or academic summer program, lifeguarding at the local pool and participating in internships will may not be possible this year. Think of the quarantine as an opportunity to do something unique that will set your application apart from others in the pile. Stand-out applicants have resumes that include activities requiring an explanation to be understood. For example, "captain of the lacrosse team" is easy to explain and many applicants will be captains of varsity sports teams. "Created a Twitter account devoted to sharing information and communicating with others about a local historical site" requires a longer, more detailed description and is undoubtedly unique. It also shows that the student has leadership qualities and the ability to take the initiative.
As students choose how they will spend their time this summer, it is important to remember the following:
Participate in a project or activity in which they are truly interested. Admissions staff can tell when a student's activities are inauthentic and solely a means of "resume building."
Choose a project or activity to which you want to dedicate a meaningful amount of your time. Merely dabbling in an activity is not going to be help a college applicant stand out from the crowd.
The following is a list of ideas of "shelter in place" projects and activities that would enhance a college application. It is my hope that these ideas inspire students to brainstorm activities that match their own interests and then jump into those activities this summer.
Music:
Learn a new instrument. Find an online teacher in your area or learn from professional musician with an online service like ArtistWorks.
Start an online band with your friends or aspiring musicians half a world away online with SofaSession.
Perform on Facebook Live to entertain your community. Consider collecting donations during your concert for a local charity.
Sports:
Coordinate online workouts with your teammates or host them via Zoom.
Organize group workouts on Nextdoor, an Instagram page you created or a community Facebook page.
Become an e-sports superstar.
Try a new "solo" sport such as running or weight training.
STEM:
Horticulture: learn to grow vegetables and coordinate a vegetable exchange with neighbors or your entire town.
Research: Contact professors and ask about virtual research opportunities.
Learn to code with an online service like Code Academy.
Become a volunteer citizen scientist helping the National Oceanic and Administrative Administration to monitor and report the weather.
Communications:
Start a blog or vlog or even a subscription newsletter on a topic of interest.
Public Relations: Contact lesser known or up and coming sports stars and ask if you can volunteer with their PR person on a project.
Create an Instagram page or YouTube channel on a topic or activity you are passionate about to connect with others who share your interest and become an influencer. Host a series of Zoom meetings addressing that topic.
Create your LinkedIn profile and connect with colleges, professors, teachers and family friends. Ask for endorsements and recommendations. Write and publish articles to your LinkedIn feed about subjects that interest you.
ART:
Learn a new art medium such as sculpting, quilting or photography.
Take an online graphic design course.
FAMILY:
Research your family history.
Ask a family member who is sheltering in place with you to share a skill or hobby such as car repair or cooking.
Literature:
Encourage your friends to read five classic novels and start your own book club.
Join a virtual book club.
Foreign Languages:
Take an online course in a new language. Practice with native speakers on a language exchange website.
Become an English-speaking partner with a non-native speaker.
The following are a few summer activities that may not be appropriate to list on your college application, but will help you with your future:
Networking.
Interview professionals in a field you are considering entering.
Take the Myers-Briggs Personality Assessment. (Find out how this assessment can benefit you in college)
Write a resume.
The 2020-2021 Common Application Essay Prompts are as follows:

1. Some students have a background, identity, interest, or talent that is so meaningful they believe their application would be incomplete without it. If this sounds like you, then please share your story.

2. The lessons we take from obstacles we encounter can be fundamental to later success. Recount a time when you faced a challenge, setback, or failure. How did it affect you, and what did you learn from the experience?

3. Reflect on a time when you questioned or challenged a belief or idea. What prompted your thinking? What was the outcome?

4. Describe a problem you've solved or a problem you'd like to solve. It can be an intellectual challenge, a research query, an ethical dilemma - anything that is of personal importance, no matter the scale. Explain its significance to you and what steps you took or could be taken to identify a solution.

5. Discuss an accomplishment, event, or realization that sparked a period of personal growth and a new understanding of yourself or others.

6. Describe a topic, idea, or concept you find so engaging that it makes you lose all track of time. Why does it captivate you? What or who do you turn to when you want to learn more?

7. Share an essay on any topic of your choice. It can be one you've already written, one that responds to a different prompt, or one of your own design.
ATTENTION RISING SENIORS:
College Application Process Symposium
Summer 2021 Registration will be available on the SFP home page in the Spring...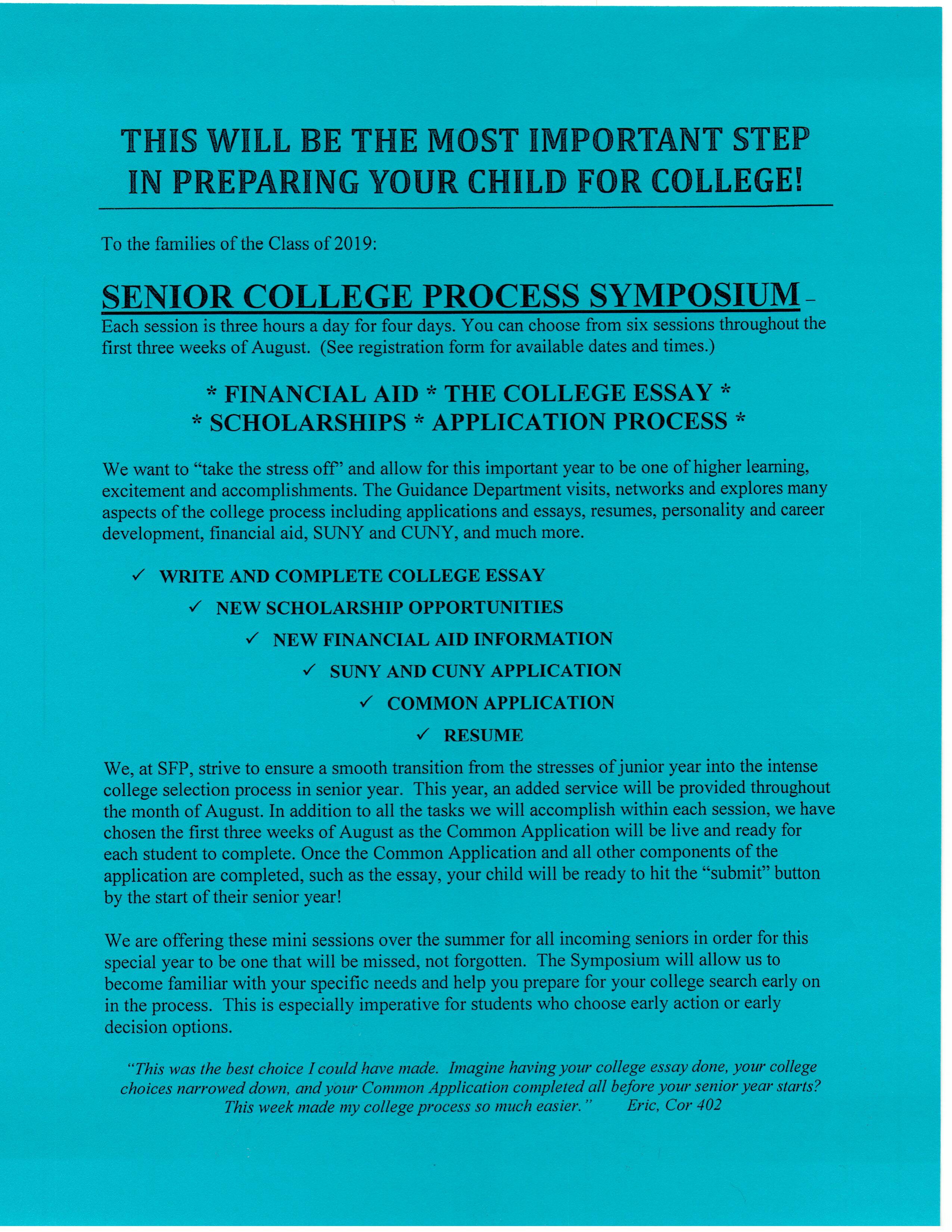 Financial Aid
Complete the Free Application for Federal Student Aid
"FAFSA"
Financial Aid Estimates
*Use a NET Price Calculator *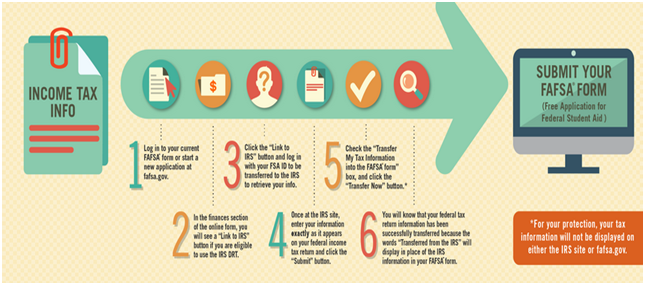 5 Things To Do After Filing Your FAFSA
1. Look Out For Your Student Aid Report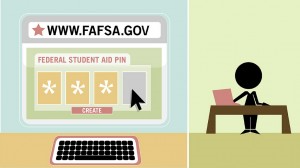 After you submit your FAFSA, you'll get a Student Aid Report (SAR). Your SAR is a paper or electronic document that gives you some basic information about your eligibility for federal student aid as well as listing your answers to the questions on your FAFSA.
Any student with a Federal Student Aid PIN can view and print his or her SAR by logging in to www.fafsa.gov and clicking on the appropriate school year. This is also where you can check the status of your application if you have not received your SAR yet. Once you get your SAR, you should review it carefully to make sure it's correct and complete. If you made a mistake, make sure you go in and correct or update your FAFSA.
2. Locate Your EFC
Found your SAR? Awesome! You may want to start by looking for your Expected Family Contribution (EFC). Your EFC can be found in the box at the top of the first page of your SAR, under your social security number.
Your EFC is a measure of your family's financial strength and is calculated according to a formula established by law. Its formula considers your family's taxed and untaxed income, assets, and benefits (such as unemployment or Social Security) as well as your family size and the number of family members who will attend college during the year.
Schools use your EFC to determine your federal student aid eligibility and your financial aid award. However, it's important to remember that your EFC is not the amount of money your family will have to pay for college nor is it the amount of federal student aid you will receive. It is a number used by your school to calculate how much financial aid you are eligible to receive. Contact your school's financial aid office if you have any questions about how they calculate financial aid.
3. Make Corrections If You Need To
It's important to make sure that everything on your FAFSA is correct and complete, as your school may ask you to verify some of the information.
Do you need to update any information? Did you find a mistake? Don't worry! It's easy to make corrections online at www.fafsa.gov. Log in and click "Make FAFSA Corrections." You'll need to enter your Federal Student Aid PIN to make any corrections. Corrections should be processed in 3-5 days and you should receive a revised SAR.
4. Review Your Financial Aid History Information
The last page of your SAR includes information about your financial aid history, specifically the loans you have taken out. It can be complicated and confusing to keep track of all of your loans and interest rates, but it is very important. Reviewing the financial aid history in your SAR will help you be aware of how much you are borrowing and how much you'll owe later.
Remember: You can access your financial aid history information anytime by logging into www.nslds.ed.gov with your Federal Student Aid PIN.
5. Double-Check With Your Schools
Lastly, make sure that you double-check with the financial aid offices at the schools you applied to. Sometimes schools need additional paperwork or have other deadlines. You never want to leave money on the table!
_____________________________________________________________________________________________
Grants/Scholarships vs. Loans
Grants are free money from schools or the government, based on financial need (you'll need to fill out a FAFSA or CSS Profile). You do NOT have to pay them back.
Scholarships are free money from schools or independent providers, usually based on some eligibility requirements and an application (e.g. an essay). You do NOT have to pay them back.
Loans provide you with money to pay for college (including non-tuition expenses), but you have to pay them back after you graduate, with interest. (In other words, over time, you pay back the lender more than they originally gave you.)
Which are most desirable? (Rank them.)
1. Grants and scholarships as most desirable (they're free money that you don't have to pay back).
2. Government or school loans (generally better terms)
3. Private loans.
💡Did you know? In 2017-18, families spent an average of $26,458 on college. 28% of the costs were covered by scholarships and grants (Sallie Mae, 2018).
College Grants
What is the requirement for applying for government and college grants?
Fill out your FAFSA - as early as possible! Funding can be first-come, first-served.
What do you think of those example UVA packages? What do the different elements (e.g. work study, grants, loans) mean?
💡Did you know? High school graduates eligible for a Pell Grant left behind $2.6 billion in free aid by not applying for financial aid (NerdWallet, 2019).
ATTENTION SENIORS – PLEASE VIEW THE SFP COLLEGE HANDBOOK TO LEARN ABOUT THE PROCESS FOR APPLYING TO COLLEGE-CLICK ON THE LINK BELOW:
_____________________________________________________________________________________________
UNITED STATES MILITARY ACADEMY
WEST POINT
OUTSTANDING JUNIORS MAY START THEIR APPLICATIONS NOW BY VISITING www.apply.usma.edu
FRESHMAN AND SOPHMORES MAY REQUEST THE E-BROCHURE "YOUR GUIDE TO SUCCESSFULL ADMISSIONS" AND VISIT www.discover.usma.edu/guide
FOR INFORMATION REGARDING THE NAVAL ACADEMY
FOR MORE INFORMATION ON USNA FALL FORUMS
_____________________________________________________________________________________________
Military Academy Nominations - FAQ (From the office of Congressman Thomas R. Suozzi)
Frequently asked questions for those seeking a Military Academy nomination. You may also fill out a Military Academy Nominations Form.
What is a nomination?
Members of Congress may nominate applicants who meet the eligibility requirements established by law. A candidate may seek a nomination from the following:
A member of the U.S. House of Representatives who represents the congressional district in which the candidate resides
Both U.S. Senators from his or her state
Apply directly to the Vice-President of the United States
What are the basic eligibility requirements?
Each applicant for a nomination must meet the following eligibility requirements as of July 1st of the year of admission to an academy:
Age: Be at least 17 years old, but not have passed the 23rd birthday
Citizenship: Must be a U.S. citizen
Marital Status: Must be unmarried, not pregnant, and without legal obligation to support children or other dependents
Residence: Must reside within the boundaries of the 3rd Congressional District of New York.
Skill / Fitness: Must meet the medical, physical, and academic requirements of the Academy
When do I apply for a nomination?
The nomination application period opens May 15th of each year for those candidates who are high school juniors and will be seniors the following school year, or who have already graduated.
What is the deadline for completing a nomination file?
What must be included in my nomination file?
A complete nomination file consists of the following items:
Current photo
High school transcript
American College Testing Program (ACT) results and/or College Board Scholastic Assessment Test (SAT) results
Resume of extracurricular activities
An essay stating why you want to attend a service academy (300 words or less)
Minimum of three letters of recommendation from (a) an academic teacher; (b) a supervisor-coach, employer, guidance counselor, scout leader, etc.; and (c) an acquaintance-someone who knows the applicant but is not a member of the applicant's family.
What happens after I have completed my nomination file?
What criteria is used in selecting candidates?
Nominations are based on a "whole person" evaluation. Factors such as academic achievements, extra-curricular activities, leadership skills, physical aptitude, character and motivation are taken into consideration and compared with other applicants.
How many academies are there?
There are five service academies.
Are the requirements the same for all of the service academies?
No. Although many of the qualifications are similar, each academy operates under its own admissions guidelines. Visit the academy of your choice via the websites noted for each academy's particular admissions qualifications. It is not necessary to seek a nomination to the Coast Guard Academy, as the U.S.C.G.A. accepts candidates based on their own testing criteria.
Who should I ask to write a letter of recommendation on my behalf?
Some of the people applicants typically seek recommendations from include:
Teachers
Counselors
Employers
Coaches
Clergy
Scout Leaders
A specific recommendation form is not required. A letter of recommendation is sufficient.
Will I automatically be selected by the academy after I receive a nomination?
No. You will be placed among a select group of nominees, and the academy of your choice will make the final decision. If selected, you will receive an offer of admission (an appointment) directly from the academy.
What if I choose more than one academy? Will I be limited to a single nomination?
No. You can be nominated to multiple academies depending on how well you have competed among this year's pool of candidates. It is also possible to win multiple appointments.
Who do I contact for more information?
Please contact Edward G. Aulman, Veterans Caseworker, at the Huntington Office, (631) 923-4104.
How to Apply to a Military Service Academy
The service academies are federal institutions that provide an undergraduate education and train future commissioned officers for service in the United States Armed Forces. Applying to a Military Service Academy is a rigorous, highly-competitive, and lengthy process only for the most determined and qualified candidates. Service academies routinely rank amongst the top universities in the nation. Students pay no tuition while at a service academy, but they are required to serve in the military upon graduation. Cadets and midshipmen will receive a small stipend while attending an academy as well as free room and board.
Listed below are the five federal United States service academies:
The United States Military Academy (USMA) located in West Point, NY
The United States Naval Academy (USNA) located in Annapolis, MD
The United States Coast Guard Academy (USCGA) located in New London, CT
The United States Merchant Marine Academy (USMMA) located in Kings Point, NY
The United States Air Force Academy (USAFA) located in Colorado Springs, CO
To be eligible to apply, you must meet the following initial requirements:
Be a United States citizen

Be unmarried with no dependents

Be at least the age of 17, but less than 23 years of age by July 1st of the year you would enter the academy.
Along with these points, you will need to meet standards of academics, physical wellness, tattoo placement, and more. Check the specifics of the academy you want to apply for to find the most up to date list of standards.
The biggest questions one must ask himself or herself is: "Do I really want to attend a service academy? Am I ready and willing to serve my country?" Don't go to an academy if you're doing it under pressure from family and cohorts; go to an academy because it's something you truly want and desire. These schools are not for the faint of heart. Be prepared to be challenged academically, physically, and mentally.
When applying for an academy, it is best to start applying early during your junior year in high school. If you are outside of the junior year timeframe, it is still possible to apply so long as you meet the designated age eligibility requirements. Enlisted service men and women in the military are also encouraged to apply. To do so, open a Candidate Profile through the respective school's website (opening a profile is the only way to initiate the application process).
The next and most critical step is to obtain a congressional nomination from your local congressman or congresswoman, your two State Senators, or the Vice President of the United States. All candidates are eligible to apply for nominations from these four sources. To apply for a congressional nomination, contact your local congressional representative and both of your senators' offices for information on their application process. The Vice President can nominate candidates without geographical restriction within the United States. To apply for a nomination from the Vice President, you can find information on the White House webpage.
The President of the United States is the source for service-connected nominations (i.e., Junior/Reserve Officers Training Corps for cadets enrolled within an eligible JROTC/ROTC program, children of career military personnel, soldiers in the armed forces, children of Deceased or 100% Disabled Veterans, or children of Medal of Honor awardees).
Ensure you apply through all applicable sources. You only need one nomination from any of these sources to be included in a pool of candidates before a service academy will even look at a potential candidate's application file.
If applying to USMA, USNA, or USAFA, for example: There are 15,000 applicants interested in attending a particular service academy. Of the 15,000 applicants, about 4,000 of them will receive either a congressional or service-connected nomination. The service academy's admissions office will then look at those 4,000 nominees and narrow down the list to identify nominees who meet the school's qualifications. In the end, approximately 1,000 qualified nominees will receive appointments to that service academy. (These rounded numbers were based off a recent academy's admissions statistics and are not exact numbers.)
Candidates are required to have letters of recommendations, strong transcripts, strong SAT or ACT scores, pass a Department of Defense Military Examination Review Board (DODMERB) physical examination, and pass a fitness test. Candidates are expected to be scholars, leaders, and athletes within their schools or communities. If you are in high school, ensure you are serving in a leadership position, whether it's as a sports team captain, a class or club officer, or community leader.
For those who dream about attending a service academy, don't give up if you don't get accepted the first time. There have been numerous applicants who have applied more than once and eventually received an appointment into an academy. The academies look favorably upon individuals with grit, character, and determination.
If applying to a service academy is your goal, we wish you the best of luck!
The United States service academies, also known as the United States military academies, are federal academies for the undergraduate education and training of commissioned officers for the United States Armed Forces.
There are five U.S. service academies:
HOFSTRA
"Struggling to Decide Test Optional or Not"
· "My test scores are above average, but I didn't do as well on the SAT/ACT as I personally would have liked. "This student should submit his/her test scores.
· "Standardized testing has always been a weakness of mine. My grades and curriculum are rigorous and competitive, but my SAT/ACT scores are below the schools mid-range." This student should not submit his/her test scores.
· "I don't want to pay or can't afford to send my test scores." Scores can be sent using a ton of free options. This student should submit his/her test scores.
· "Sending my test scores is an obstacle and will take way too long." This student should submit his/her test scores.
· "My best scores are way below Hofstra's published average and mid-range scores. " (SAT scores 1140 to 1330, with an average ACT equivalent of 24 to 31.) This student should not submit his/her test scores.
Binghamton University
The Office of Undergraduate Admissions at Binghamton University now permits applicants to self-report their SAT and ACT test scores. This decision reflects our commitment as a public university to remove barriers to the college application process.

Students should have their full score report with them, including all section scores, when self-reporting their test scores. They will require official reports sent by the testing agency if the student chooses to enroll.

Visit the test policy webpage for complete details and answers to frequently asked questions. Note: The option to self-report scores is not available for international or athlete applicants.
Hispanic Serving Institutions-
https://www.affordablecollegesonline.org/college-resource-center/hispanic-serving-institutions/
The guide covers all aspects of HSI's from what the designation means, to how it gets implemented at colleges.
The CUNY Application
The CUNY Application is now available for Fall 2020. Students who are interested in applying may choose up to 6 colleges using either the Freshman or Macaulay Honors Application.
CUNY Colleges on the Common Application
Five colleges have joined the Common Application: Baruch College, Brooklyn College, College of Staten Island, Hunter College
2020 Ladders for Leaders Program Application
Ladders for Leaders:
Ladders for Leaders is a nationally recognized program that offers high school and college students the opportunity to participate in paid professional summer internships with leading corporations, non-profit organizations and government agencies in New York City. The program is an initiative of the NYC Department of Youth and Community Development (DYCD) and supported by the NYC Center for Youth Employment and the Mayor's Fund to Advance New York City.
Ladders for Leaders: Ladders for Leaders gives students a unique opportunity to explore their interests and discover new ones through:
✔ Pre-employment Training: Receive help with résumé and cover letter writing, and interviewing skills. Learn essential workplace readiness skills and business etiquette.
✔ Paid Summer Internships: Paid internship opportunities available in a variety of industries to accommodate student interests.
✔ Opportunity to join our growing Alumni Network: Broad network of alumni, post-internship opportunities and networking events open only to past participants of the program.
Who is Eligible?
✔ Youth between the ages of 16-21 who are enrolled in high school or college
✔ A minimum Grade Point Average (GPA) of 3.00
✔ Resident of one of the five boroughs of New York City
✔ Anyone with prior work experience, either paid or volunteer
✔ Legally allowed to work in New York City
If you have further questions about SYEP Ladder for Leaders, contact NYC Youth Connect at (800) 246-4646.

Virtual Internship Opportunities
Visit: Bethechangenow.org
S-PREP is accepting applications for our
20-21 Academic Year/Saturday Program.

S-PREP is a free high school and college preparatory program for 7th - 12th grade students, who are interested in a career in medicine or related STEM professions. The long-range objective is to increase the number of historically underrepresented and economically disadvantaged students prepared to enter college, and improve their participation rate in healthcare and STEM.
Academic Year offerings include: academic enrichment in math & science, SAT prep (priority for 11th graders), academic/career counseling, career development, college preparatory workshops, and college tours. Program will run from Mid-October to Mid-May from 9am – 3pm.
The Fall Component will be Virtual, Spring is TBD.
Application Deadline: Tuesday, September 15th 11:59pm ET!
Apply online at: www.ps.columbia.edu/sprep/apply
Have questions? Join us for an admissions webinar!
Learn more about the program, application & general tips.
Register for a Webinar at: https://columbiacuimc.zoom.us/meeting/register/tJcucuCvrTIqGd1DiVpINaHr2XGAhCkRE7-m
After registering, you will receive a confirmation email containing information about joining the meeting.
COVID-19 and NYU's Approach to Testing for Applicants During 2020-2021
NYU recognizes that the continued struggle with the Covid-19 health crisis has made it more difficult for applicants to take many kinds of standardized tests. Even though NYU has a flexible testing policy that allows students to submit alternatives to traditional submissions like SAT and ACT, in this year the flexibility of our testing policy may be insufficient to overcome impediments to testing caused by the corona virus.
Accordingly, while the University still welcomes those applying to be members of the Class of 2025 to submit test scores in line with our policy, we will not require it. If you do not submit test scores, you will not be disadvantaged during the application review process this year. We will equally consider students who submit standardized testing, those who are unable to sit for standardized testing this year, and those who submit their scores past our normal deadlines.
Our holistic review process - meaning that each candidate is evaluated on multiple factors beyond simply grades, test scores, and other quantifiable metrics - is made for this very type of situation, and is dedicated to ensuring that students who are unable to take traditional standardized tests are not disadvantaged, compared to students who submit scores.
NYU is committed to bringing together diverse students whose educational and personal development align with the mission of our university. To that end, NYU has one of the most flexible testing policies of any college or university, accepting dozens of examinations and qualifications from around the world.
If you are in a non-U.S. curriculum that culminates in a final school leaving or university entrance examination, you will still be expected to provide predicted and/or final results from that examination.