College Office
SAT-ACT Info
---
Now is the time to begin considering preparation for the SAT exam. SFP has partnered with Curvebreakers Test Prep to offer a comprehensive and discounted course. It is 8 sessions; 2 full-length practice exams and 6 sessions dedicated to strategies, techniques and tips. An email will be going out in around early-to-mid December, so please keep an eye out for it.
Below is the link to get registered for either SAT Prep course: March or May. For March, you have your option of after-school weekday or Saturday sessions. For May, there is just after-school weekday sessions. The after-school weekday courses are in W103. The Saturday courses are in E-204. All are fully in-person.
https://curvebreakers.store/collections/st-francis-prep
College Testing Updates
SAT: www.collegeboard.org/collegeboard-covid-19-updates
ACT: www.act.org/content/act/en/covid19
Fair Test: (Test Optional) www.fairtest.org/colleges-and-universities-temporarily-waiving-acts
SAT
Test Dates
August 28, October 2, November 6, December 4, March 12, May 7, June 4
ACT
Test Dates
September 11, October 23, December 11, February 12, April 2, June 11, July 16
The COVID-19 pandemic has created uncertainty among students and families about nearly all aspects of the college admission process, including the role of standardized testing.
Due to the cancellation of SAT and ACT testing dates, more than 1,450 US colleges and universities announced they are moving to a test-optional policy, and more will surely follow. By going test-optional, institutions are making a definitive statement that they will not need test scores to make admission decisions this year. Despite the change in policies, high school students and their parents are asking, "Does test optional really mean test optional?" The answer, simply put, is: YES.
For a list of schools going test optional visit:
https://www.nacacnet.org/news--publications/newsroom/test-optional-means-test-optional/
Yes, your students should still study for the SAT while schools are closed.
With schools closed and the May SAT cancelled, it might be tempting to throw SAT prep out the window along with all other semblance of normality. However, even with the SAT cancelled, it is important for students planning on applying to college next fall to continue to prepare for their exams.
While some schools have announced that they will be going test optional, the majority of schools (as of right now) are still indicating that they will be expecting scores. And even for schools that are completely test optional, a good SAT score can bring some balance to weaker grades or extracurriculars. A strong SAT score can also still help students earn scholarship money: some schools that have waived SAT requirements for admission are still requiring that students submit scores if they want to be considered for merit scholarships.
The good news is that with exams cancelled until at least June (if not later), there's more time for students to study. The bad news, of course, is that with classes moving online and the daily stress of being at home in isolation, many students may not feel that they have the bandwidth to focus on something as far away as a distant June (or even August) test date. Here are a few ways to discuss SAT preparation in the time of COVID-19 with your students.
Focus on consistency over intensity
People always overestimate the amount they can get done in a day and underestimate the amount they can do in a year.
This is especially true when it comes to preparing for the SAT when there isn't another test for several months.
Coach your students to do a little prep every day and not to worry about packing in the practice tests or doing a ton of problems in one sitting. This is a time to create a habit that sticks, not a time to sit in front of a book or a screen and grind out practice problems.
If your students can commit to doing ten minutes of SAT math or a single writing and language or reading passage every day while they're stuck at home, their scores are going to improve.
In test prep there is always going to be a push towards improving by as many points as possible in as little time as possible. Now is the time to help students resist the urge to overload themselves and burn out. Encourage them to focus on getting just 1% better every day.
Treat studying for the SAT as a way to be together…. Or apart
One of the worst parts of pushing education online is when it turns into a solitary exercise. Think about the best classroom experiences – they aren't just with a teacher who lectures at you nonstop or builds around studying on your own. A lot of learning happens both in on-topic classroom discussion and in the incidental chatter between classes as students are trying to finish their homework as quickly as possible with the help of their friends.
But for our students who are stuck at home, they don't need to be learning alone. Getting together with friends over video chat is not as fun as sharing TikToks, but it can be a way to structure face-to-face time with one another that they might not otherwise get. Encourage your students to self-organize small study groups online when appropriate.
Of course, some students have the opposite problem. Students with siblings or who live in small spaces may not feel that they can get away or have any time to themselves. For students who do need that alone time, studying for the SAT can be a good excuse to get their parents or family to leave them to their own devices for an hour or two.
But more than anything, focus on the process
A great (and easy-to-implement) strategy for helping your students focus on process and build self-accountability is called habit stacking. According to author James Clear, "one of the best ways to build a new habit is to identify a current habit you already do each day and then stack your new behavior on top. This is called habit stacking."
You can easily work with your students remotely to help them create SAT study habit stacks of their own. Here is the formula for habit stacking:
After/before [CURRENT HABIT], I will [NEW HABIT].
For example, let's say you're stressed out and want to relieve your anxiety. A habit stacking statement would be:
After I eat dinner (current habit), I will meditate for five minutes (new habit).
Now, since our mission is to help our students build a healthy and consistent SAT study habit, we can work with them to fill in the blank to create a habit stack of their own. Like this:
After/before __________, I will dedicate 10 minutes to my SAT studies.
We all know that cramming for the SAT at the last minute is always stressful and mostly ineffective. But 10 minutes a day can go a long way when students have more time to prepare, as they do now.
This is a stressful time for everyone, and chances are that the compression of testing season into next semester is going to make a lot of seniors' fall semester stressful in other ways. Now is the time to help students with their plans on when they are going to take their tests, and how and when they are going to study. Even if those plans do have to change, that sense of structure will help set students up for success and give them a sense of normalcy.
STUDENTS ARE RESPONSIBLE TO REGISTER FOR EXAMS AND
SEND SCORES TO COLLEGES
REGISTER FOR ACT TEST
Most students will take the SAT at least twice, and the first time will usually be sometime during their junior year in high school. SAT Preparation is helpful and necessary for anyone who intends to take the SAT. Many high school students have found that an SAT Prep Course will help them perform better on the SAT, whether they are taking it for the first time or if they have taken the test several times before. The SAT is made up of multiple choice questions on verbal and mathematics skills. The entire exam lasts approximately four hours.
While most students dread taking the SAT, it is a necessary evil and SAT Prep can help immensely. SAT Prep will help students prepare for the SAT in a variety of ways. First, an SAT Prep course will encourage students to relax. Second, it will show them exactly what to expect on the exam. SAT Prep gives students sample questions and shows them how questions are often worded to "trick" test takers. Students also have the opportunity to take one or more sample SAT exams.
On the College Info (SAT/ACT) pages of the SFP website, we list courses that are available to you at SFP to help you make this process more convenient. We have made these cost effective courses available; they are comparable to other courses that are offered at a much greater price. We do not recommend this over any other SAT Prep course you might be interested in; however, they are conveniently offered here after school.
It is our hope that you look into this matter and that your child begin the preparation no later than January. For more information please contact the guidance/college office anytime during school hours: 718-423-8810 X 245.
Director of Guidance and College Office
SAT vs. ACT
Colleges will accept both tests equally.
Colleges will use SAT and ACT scores for admissions and merit-based scholarships.
SAT v. ACT Comparison Chart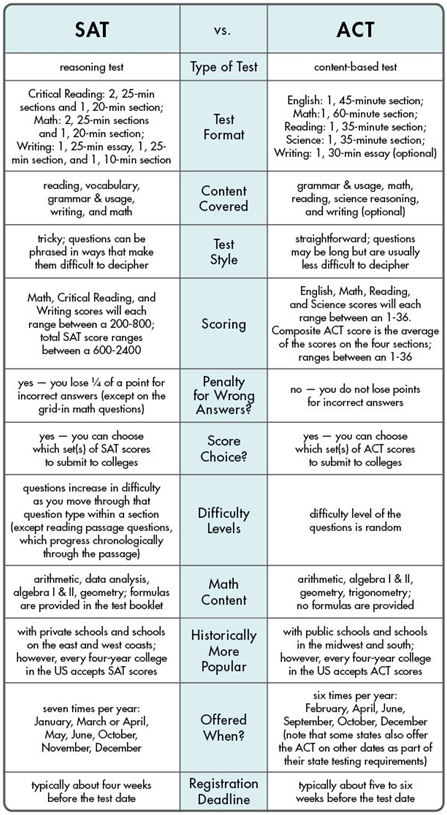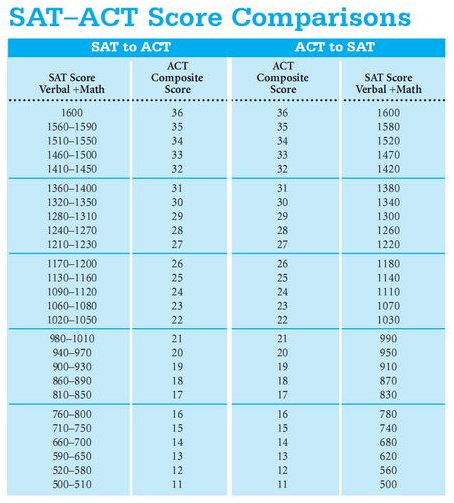 NOTE: Seniors are responsible to have their SAT test scores sent directly to the college / university . You can do this from the College Board website. THE CODE TO HAVE SAT SCORES SENT THROUGH COLLEGEBOARD TO CUNY IS #2950.
* SAT: It is recommended JUNIOR STUDENTS TAKE the SAT in the Spring. Once you receive those scores we suggest spending time over the summer preparing for the fall SAT. Focus on the area(s) where your performance was weak. SENIOR STUDENTS ARE RECOMMENDED TO TAKE THE SAT (again) IN THE FALL.
*SENIORS: It is very strongly suggested that you register on-line for the October or November SAT exam during the summer approaching senior year.
SAT / SAT II and ACT EXAMS - Please consult with your guidance counselor with any questions.
TO ASK A QUESTION OR SEND A MESSAGE TO COLLEGEBOARD VISIT sat.collegboard.org/contact or call 866-756-7346
SAT EXAM: (SFP Test Center Code: 33426)
CEEB CODE: 330 835
REGARDING SAT / SAT II and ACT EXAMS - Please consult with your guidance counselor with any questions.
Students can also register for SAT II exams on the College Board Website: www.collegeboard.org
About The Exams
Standardized Examinations For most students, standardized tests mean the SAT/ACT and SAT Subject Tests. The SAT Reasoning measures generalized information and reasoning abilities that students have acquired over their lifetime. It is used as a predictive instrument by colleges to indicate the likelihood of a student's success in the first year of college. SAT Subject Tests measure knowledge gained in a specific subject matter such as mathematics, foreign language, and science (e.g., biology). Most colleges use the SAT Reasoning as a component of the admission process, while only the more selective, private colleges may require SAT Subject examinations.
SAT Reasoning Test The SAT Reasoning test is a three-hour forty-five minute exam, and the results are expressed in Critical Reading, Math and Writing (range 200 - 800). Keep in mind that the Writing section is optional and many colleges that do not require it will not factor the score to determine the admission decision. The SAT is offered several times during the school year. Carefully note registration deadlines. Most colleges will use the highest Critical Reading, Math, and Writing scores for a student even if they are from separate test dates. Score Choice is available through the College Board where students can elect which test exam dates to forward to colleges. Keep in mind that a few of the more competitive colleges are still requesting that all scores be sent.
SAT Subject Test The SAT Subject Test is a series of one hour curriculum-based examinations and you may sit for up to three tests on any given test date. Most colleges requiring the SAT Subject Test prefer to see at least two or three examinations. They should be in subject areas where students demonstrated strength. Most students take the SAT Subject Tests examinations in June of the junior year (although some individuals may have previously taken SAT Subject Tests examinations in subjects such as biology). If you are uncertain about whether or not you should register for the test, either contact your guidance counselor or speak with your current curriculum based teacher. There are a few schools that still require these exams, while many have made them recommended or not required at all. You can refer to Naviance or the college's website for specific testing requirements. Please note that one cannot sit for SAT Reasoning and SAT Subject Tests on the same day.
ACT Examination The ACT is a three-hour test made up of four main sections: English, Mathematical, Reading and Science Reasoning. The ACT score is a composite of these four sections and ranges from 1 to 36. The ACT is more closely tied to school curriculum and is, therefore, more achievement-oriented than the SAT. ACT permits students to choose which score results are sent to colleges. The ACT also has a version that, for a higher fee, includes a Writing section. Many colleges today do not require the version with the Writing section, so you should do your research into individual college requirements prior to taking it.
Test Optional Colleges There are over 1,000 colleges and universities who have chosen to become "test optional." This means that those colleges make admissions decisions that do not include standardized test scores in the process. However, keep in mind that all of the remaining components of the admission folder carry far more weight. In addition, some of the colleges that are test optional will not award merit based scholarships unless you provide your testing. For a full list of colleges that are Test Optional and additional resources, please visit www.fairtest.org.