June 2018
""We may encounter many defeats, but we must not be defeated. It may even be necessary to encounter the defeat, so that we can know who we are. So that we can see, oh, that happened, and I rose. I did get knocked down flat in front of the whole world, and I rose. I didn't run away – I rose right where I'd been knocked down. And that's how you get to know yourself. You say, hmm, I can get up! I have enough of life in me to make somebody jealous enough to want to knock me down again. I have so much courage in me that I have the effrontery, the incredible gall to stand up. That's it.""
Maya Angelou
From the desk of Mr. McLaughlin:
GRADUATION
At the beginning of June, we celebrated the graduation of the Class of 2018. On Friday, 1 June, we had the Graduation Liturgy in the Br. Ralph Clifford Memorial Auditorium. Fr. Ralph Edel, our chaplain, was the celebrant; Fr. Bill Sweeney and Fr. Mark Simmons, who had both served as chaplains for this graduating class, concelebrated the Mass. Fr. Ralph gave an inspiring sermon about being in the moment and making good choices. Our Liturgical Ensemble sang beautifully. At the conclusion of the Mass, we presented a variety of awards from civic, educational, and political organization. We ended with several special awards given by the school. The faculty recipient of the Franciscan Spirit Award was Ms. Ann Marie Rich of our Science department.
On Saturday, 2 June, we had our Graduation ceremony in Lou Carnesecca Arena at St. John's University. All the graduates processed onto the stage, shaking the hand of either Br. Leonard Conway or Mr. Patrick McLaughlin. Sarah Williams delivered the student welcome, and Olivia Morris delivered the student address. Mr. Christopher Mendolia announced the recipients of the departmental academic awards: two students received certificates for commendation and one student was given a medal as the top student in each department. In addition, we presented the following special awards:
- Franciscan Spirit Award: Brianna Sheridan
- Al Powers Student-Athlete Award: Matthew O'Donnell
- Sheila Barrett Knudsen Student-Athlete Award: Sarah Williams.
The General Excellence Medal was presented to two students: Olivia Morris and Chloe Sweeney. We presented certificates to students who had cumulative averages of at least 100%:
Jessica Caliendo, Oisin Corbett, Nicholas Delacruz, Glenn Fiocca, Christopher Francone, Thomas Houghton, Nicholas Kokotos, Constantino Kosmidis, Isabel Leon, Elpida Leontiadis, John Sullivan, and Sarah Williams.
There were two recipients of the medal for excellence in Spanish; in addition to Christina Lino, Isabel Leon will also receive this medal.
Both days were spirited, positive, and dignified ceremonies. We congratulate all the graduates and their families on their great achievement. We wish them all the best as they continue their education and the pursuit of their goals and dreams. Well done.
Graduation Slideshow HERE

AUGUST REGENTS EXAMS
Regents exams will be offered on Thursday and Friday, 16 and 17 August. Students may re-take an exam if they missed it or did not pass it; students may not re-take an exam they already passed in order to try for a higher grade. Students who wish to re-take a Regents exam must register in the Summer School office (E101) during the week of 9 July.
Faculty Recognition for Educational Excellence Award
Congratulations! This year's recipient of the Faculty Recognition for Educational Excellence Award is Mrs. M Rafferty.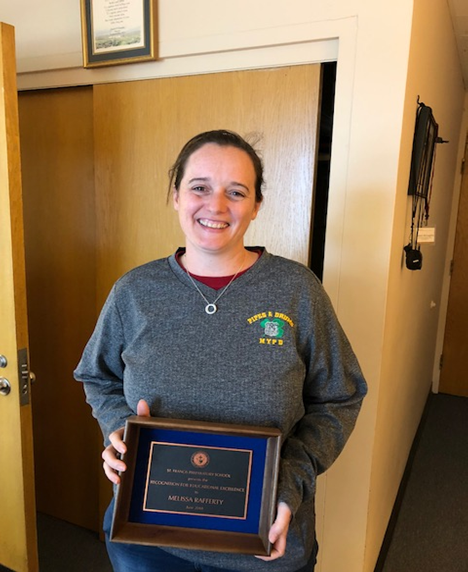 Advanced Placement United States History
June 2018: SFP's Advanced Placement United States History class students took their annual trip to Philadelphia and visited the National Constitution Center, the Museum of the American Revolution, and the Liberty Bell. Everyone had a great time and learned much from the one of the birthplaces of our government.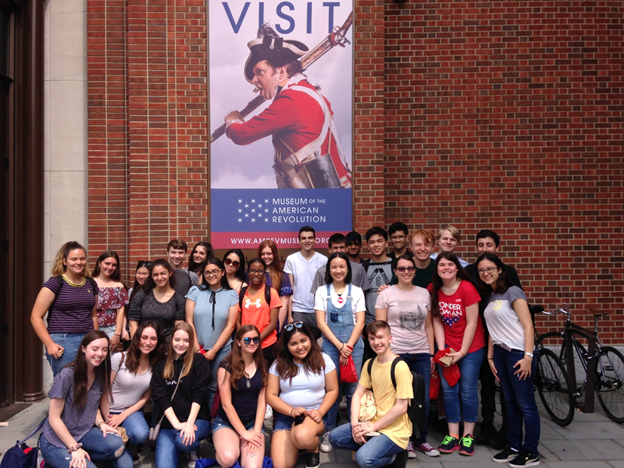 Art Department

Gina Licalzi receives a Full Scholarship to the School of Visual Arts Summer Program.

Saint Francis Prep Art student Gina Licalzi was awarded a full tuition scholarship to of $ 2,700! Gina will attend SVA this summer and study Advertising Design. Gina is thrilled to further her business and art education. SVA's Pre-College Program is designed for high school students who want to enhance their creative skills, learn more about a particular field of art, develop a portfolio, and experience the challenges and triumphs that exist at one of the most dynamic college Art programs. SVA's Pre-College Program offers courses taught by the same faculty of leading art professionals who teach in the college's undergraduate degree programs. Students will explore the fundamentals of art and design at a level not readily available in high school. Gina, her art teachers, and family are all thrilled and extremely proud of her.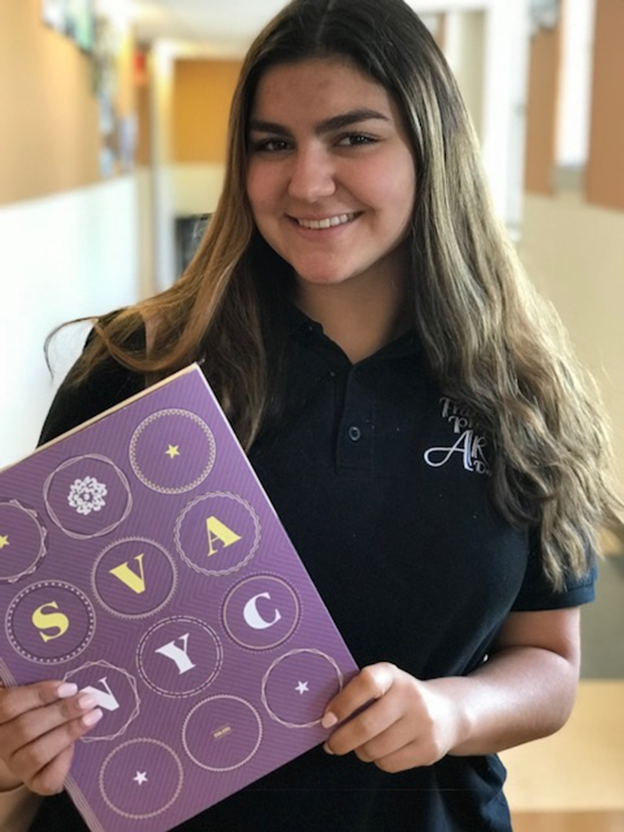 Saint Francis Prep Art Students Showcase their Art work at Saint John's University.
Over 60 Saint Francis Prep Art students participated in the Saint John's University's 2018 Annual High School Art exhibition. High school students from Queens were invited to submit art work for a gallery show at Saint John's. SFP art students were selected to exhibit their work and attend an opening ceremony. Students had the opportunity to view their work on display in a true gallery setting, mingle with students from other schools, see amazing art work from Queens's high school students, and snack on delicious chocolate chip cookies. The exhibition will be on display until July 13th in the Sun Yat Sen Gallery Hall on Saint John's University Campus. SFP Art department thanks SJU and is grateful for such a wonderful opportunity!
Science Research
This January, a number of seniors in the Science Research Program were recognized for their outstanding research. All 17 seniors in the program completed their own novel research projects in a field of their choice. The seniors have entered into three major competitions thus far: The Regeneron Science Talent Search (STS), The Junior Science and Humanities Symposium (JSHS), and New York City Science and Engineering Fair (NYCSEF). Patrick McArdle and Gabriella Varvarigos received Research Report badges from Regeneron STS, Christina Lino received an Initiative Badge, and Anthony Abicca, Nikki Chati, and Kayla Keenan received both Research Report and Initiative Badges. JSHS invited Anthony Abicca, Christina Lino, Patrick McArdle, and Samantha Nierer to present their findings as semi-finalists on Sunday, February 4th. Hiuyu Au, Nikki Chati, Havilland Firoz, Clare Iriarte, Kayla Keenan, Daniela Mastronardi, Patrick McArdle, Samantha Nierer, Lauren Secilmis, and Rachel Zhang will be attending the semi-finalist round at NYCSEF on March 3rd. We are so proud of everything they have accomplished thus far and wish them all the best as they continue on to further rounds of competition!
Foreign Language
The following students excelled on the 2018 National Spanish exam: Elizabeth Rivera, Kayla Walsh, Miranda Florez.
U.S. State Department Honors Prep for German Exchange
The Prep has been awarded a certificate from the U.S. Department of State honoring the school for its "commitment to international exchange and building mutual understanding between the people of the United States and the Federal Republic of Germany." A letter accompanying the certificate praises the Prep for its "unique contribution" to citizen diplomacy. The State Department said that the Prep's participation in the German American Partnership Program (GAPP) demonstrates the school's "commitment to cultural exchange and academic enrichment" of its students.
The Prep has participated in GAPP exchanges with its German partner school since 2004. During the exchanges, Prep students live with host families in Germany, attend classes at our partner school, and go on several trips throughout the country. The German students, in turn, live with the families of their Prep partners, attend classes at the Prep, and go on several day trips to Manhattan during their stay in New York.
Varsity Softball: Mayor's Cup (Senior Exceptional) Game: June 11th, 2018. GCHSAA defeated PSAL.
The Girls Softball Program had its Awards Dinner on Monday, June 18th, 2018, at the Immaculate Conception Center. The following athletes won special awards:
JV SOFTBALL AWARDS:
MOST IMPROVED PLAYER: ALEXANDRA CASTELLANO
GOLDEN GLOVE INFIELD: LAUREN PETERS
SCHOLAR ATHLETE: FRANCESCA PULEO
ROOKIE OF THE YEAR: ANGELINA SCHOELLES
HIGHEST BATTING AVERAGE: GENESIS DUARTE SUAREZ
MOST VALUABLE PLAYER: GENESIS DUARTE SUAREZ
MOST VALUABLE PLAYER: KEIRSTON ENZ
GOLDEN GLOVE OUTFIELD: VICTORIA HARRISON
COACHES AWARD: ASHLEY LETO
VARSITY SOFTBALL AWARDS:
MOST VERSATILE PLAYER: KRISTINA VERRUSO
ROOKIE OF THE YEAR: MEGAN VICARI
TRUE GRIT AWARD: ALYSSA WILKINSON
JOSEPH DIGILIO SPIRIT AWARD: JAZMIN ANDREWS
MOST IMPROVED: PLAYER: JESSICA CALIENDO
COACHES AWARD: JESSICA LI
HIGH BATTING AVERAGE: MADISON REICHERT
GOLDEN GLOVE INFIELD: MADISON REICHERT
GOLDEN GLOVE OUTFIELD: ELIZABETH ROCCO
SCHOLAR ATHLETE: SARAH WILLIAMS
MOST VALUABLE PLAYER: SARAH WILLIAMS
Track
Coach Magenheim reports that our Track athletes were very excited they were able to run in the New Balance National Championships. The boys had a good weekend placing 29th in the Emerging Elite Sprint Medley Relay, racing against the top athletes in the country. Trinity Smith ran the Emerging Elite 100 hurdles and placed 25th.
Alumni
Hunter College junior track and field competitor Bianca Rey (SFP graduate 2015) was named the CUNYAC/Hospital for Special Surgery Scholar-Athlete of the Month for May 2018.
Franco Sagliocca, MBA (SFP class of 1983), was presented with the Supply Chain Leadership Award for exceptional achievements in cutting healthcare costs.
♦ ♦ ♦ ♦