The trip to Germany in the summer of 2018 is now closed. Please contact Mr. Kruger if you have any questions.
German Exchange: Prep Students Visit German Partner School
A group of ten students from the Prep traveled to Germany to participate in the second half of an exchange program with the Prep's partner school, the Albert Einstein School, in Maintal, near Frankfurt. After having hosted students at the Prep from the Albert Einstein School for three weeks back in October, the Prep students were eager to see their German partner students again and to experience life in Germany. The exchange was part of the German-American Partnership Program (GAPP) and was sponsored by the German government's Goethe Institute.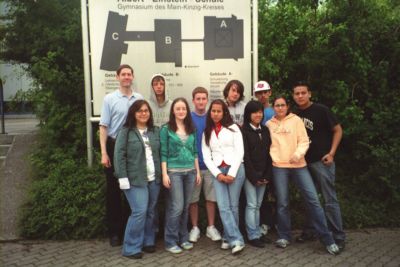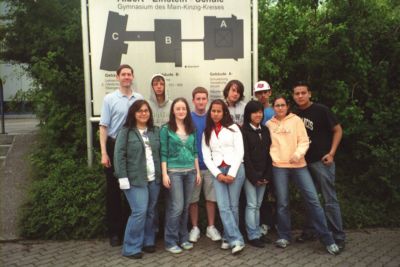 During their three-week stay the Prep students attended classes with their German partner students, participated in numerous field trips and attended German language classes. While in Germany, they had to adapt to the many differences between life there and in the U.S. The carbonated bottled water that most Germans drank, the lack of screens in the windows and the high speeds that Germans travel on their highways, called the Autobahn, were among the first things students mentioned when asked about the differences between the two cultures.
Prep students also noticed that their partner school was quite different from the Prep. The Albert Einstein School has only about 900 students, compared to some 3000 at the Prep. The partner school includes grades 5 through 13 - typical of a German Gymnasium, the uppermost of the three types of secondary schools in Germany. In addition, Prep students were amazed to learn that class participation counted for more than 50% of the final grade in many of the classes they visited.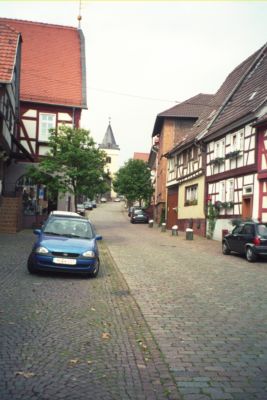 The town of Maintal itself is much smaller than Fresh Meadows. It is made up of several small villages and is surrounded by farmland. Many of the streets appear unchanged from the Middle Ages.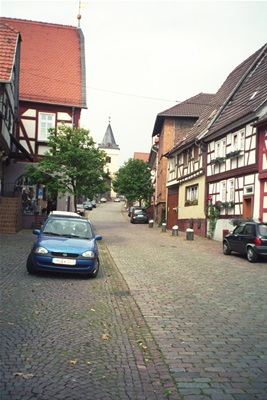 Main Street in Maintal
On the first full day in Germany students walked through these streets to visit an apple and orchard press on the outskirts of Maintal. Later outings included visits to the studios of Radio FFH, a popular local radio station, a trip to the picturesque wine-growing region of Rheingau along the Rhine River, a walking tour of the nearby city of Frankfurt and a visit to an Opel automobile factory, where students saw cars assembled by state-of-the-art industrial robots.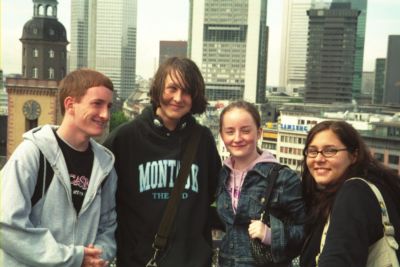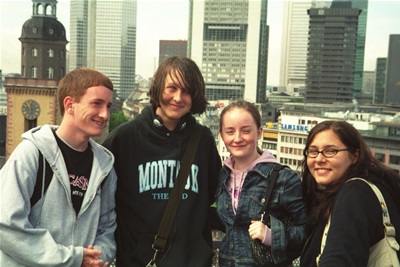 Danny Lynch, Chris Civitano, Kimm Mooney and Olivia Magnotta in Frankfurt
The highlight of the stay in Germany for most students however was their three-day stay in the Bavarian city of Passau, located on the Danube, Inn and Ilz Rivers near the Austrian border. Students explored the old quarter of the city, toured the Barock Cathedral and took a boat ride along the Danube into Austria. While in Bavaria, the group also took a trip to the former Nazi Concentration Camp at Dachau, outside Munich.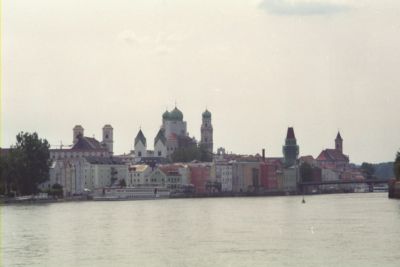 Passau - the Three-River City
Many students said the stay in Germany inspired them to take German lessons back home. Several in the group have developed friendships with the German students and have already made plans to return to Germany next summer. "This trip was wondrous and I can't wait to come back again", said Angela Chu. Chris Ludvik recommends that other students take part in future exchanges: "You should definitely go to Germany because it will be the most fun you will ever have and I know we all wish we could stay for a lot longer."
*Click here to go to the website of the Albert-Einstein Schule, our partner school in Germany